Pay-per-Click Services Palm Beach
So, you need your prospects to find your site, right? One of the most effective ways to boost your brand's visibility is with Google Ads. Using Google Ads lets you place your advertisements in the search results. You can also post banner ads on other sites affiliated with the Google Display Network.
Google offers the ads platform and we offer the ppc set up and management services.
Google Ads Services
Formerly called Google Adwords, Google Ads is a popular advertising platform. After searching a keyword term, the results for a query show a search engine results page (SERP's). For a typical search you will usually see 3 to 4 Google ads at the top, and organic results somewhere below the ads. Depending on the search, you may see a maps section or some shopping ads in between the ads and organic rankings, shopping ads on the side and more recently, shopping ads at the very top.
If done properly, you can even get ads to land in the mapping section! We all know how difficult it is to get a newer business ahead of a competitor who has been at the top of the maps section for 20 years.
Google offers a variety of different ways to advertise your services or products. You can even pinpoint a specific geographical area.
For example, if you have a brick and mortar store and you sell services and products, you can advertise the services of your business with Google ads and the products you sell with the use of Google shopping ads.
Google's Merchant Center
Many people are not aware of Google's Merchant Center where you can upload your products into the Merchant Center and a few other details and Google will run ads for your products. The buyer can pay through Google, click through to your website to purchase or come into your store to buy products.
It is possible for you to have a pay-per-click ad running next to a shopping ad. Furthermore, Google will sometime advertise your products for free.
Google Ads is a Bidding System
Google ads is a bidding system combined with what is termed a quality score. You can not just pay the most and end up at the very top of the ads section. Google guides you to make sure your ads and the pages the ads land on are relevant. Google's goal is always to satisfy the user who is searching for your business.
How can Landing Pages Help my Quality Score?
It is a good idea to create specific landing pages for each of your services or products and make sure the ads land on these pages. The landing pages need to be maxed out with optimization and have plenty of relevant keyword phrases that hopefully are relevant to the keyword terms the user is searching. When all the pieces of a well written ad, a well written relevant landing page and a competitive bid come together, you can actually rank higher than someone who is bidding higher than you.
It takes a Comprehensive Approach
Pay-per-Click Ads Audit
A PPC audit involves analyzing a PPC program that has been set up and/or running with the goal of determining if it can be improved so that you can get a higher return on investment with your PPC campaigns.
A PPC audit can help you in many ways especially when you consider that you could be wasting over 50% of your ad spend.
The Google Ads system is complicated and constantly changing with new updates and features. These changes are difficult to keep up with.
How can a PPC Audit help?
A comprehensive PPC audit can help to figure out why your ads were doing great in the past but now they are not showing you the same results. Or maybe you are getting the same results but the cost for the ads as gone up significantly. A PPC audit may be able to help you figure out why.
PPC audits are implemented with the use of software and in addition to that, we take an comprehensive approach and check out all of your paid advertising.
We will check out things like:
How are the ads accounts organized?
Are your ads utilizing all of Google's machine learning and extensions?
Is the conversion tracking set up properly?
Are the settings in the campaigns set up correctly for your goals?
Are the bidding strategies in line with your goals?
What keyword phrases are being used?
How is the quality score of the ads?
Once the analyzing is complete, we will go over the reports and make recommendations.
Your Business Goals
When contemplating a PPC campaign, the very first thing to consider is your business goals. Some goals questions are:
Do you want to get more people to come into your local store?
Do you want them call you and hire you to come to their place of business or home?
Do you want them to buy products?
Do you want them to fill out a form on your website?
The first thing we consider before we set up your ads is, "What are your business goals?" We chose the bidding strategy, the ad types and where your ads will be placed, based on your goals.
How it Works: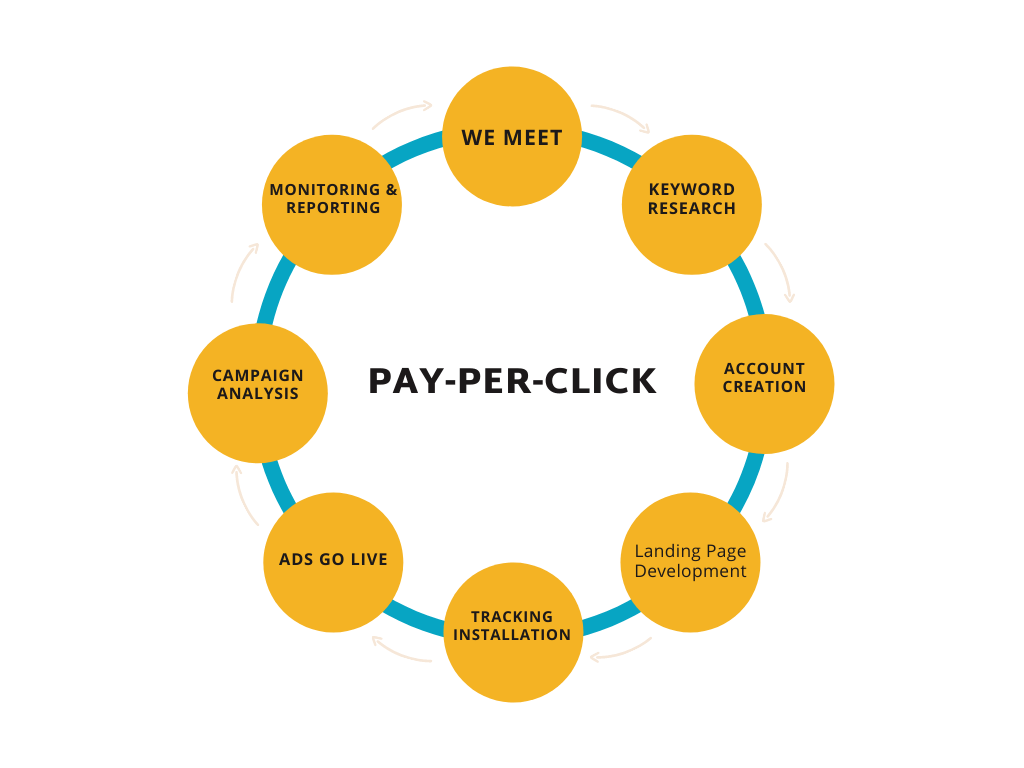 We Meet.
We meet in person, over the phone, or by Zoom.
Keyword Research
I do extensive keyword research with Google's help. They have a ton of data when it comes to keywords. You give me some keyword phrases to start with and I take it from there.
Creating the Ads
After evaluating your goals, we choose the best marketing strategy for your goals.
Landing Page Development
Ahhh…my specialty. The better the landing page, the better the results. A strong landing page will be well optimized and highly relevant to the keyword phrases your potential buyer is using to search for a business like yours. It is important to have a well structured balanced format so that your quality score and the ad land as high as possible.
Setting up your Google Ads Account
Setting up the Google Ads account, the campaigns, the Ad Groups, the ads and the keyword structure isn't correct it could have detrimental effects and may affect your return on investment. Setting up your Google Ads Account is like building the structure for your home. If it's not done correctly, the house falls down.
Installing Tracking Code
Everyone wants to know how many clicks they had last month compared with the current month or how many men purchased their products compared to women. Google tracking code, if installed correctly, is used to create reports for your Key Performance Indicators so that you can make successful ongoing marketing strategy decisions.
Google Ads go Live
It's an exciting day when the ads go live. This excitement is short lived when you realize it will take time for Google to "machine learn" you campaigns. After some time passes and Google has collected some data, they will make recommendations to improve your ads. We will sometimes apply the recommendations and sometimes not depending on the recommendations and your goals.
Testing Campaigns
We will set up different ads in each ad group to test ads. If one ad is performing better than another ad, we drop the loser ad and create another ad to test against the winner.
We Monitor the Campaign Performance
Usually, for most business owners, the idea of a Google Ads campaign is so that you can make a positive return on investment. Sometimes it is about raising awareness of your brand. We monitor the campaigns to make sure you are achieving your goals. We meet with you once a week, every other week, or once a month to go over the reports and make strategy changes if necessary.
We want you to Flourish.
We want you to be successful. We want you to have a satisfactory return on investment. We like to see businesses flourish and we like being a part of that.